Two Rope Working update
February 2020
**The video created in December 2019 was after a Lantra Instructor update (13th Dec 2019) with a Lantra Technical Verifier, where different options and systems were discussed to address the new 2-rope working as specified by the HSE.  This was not a training video, it was published with good intentions: useful, helpful and informative to help those currently in the industry or those who are interested in starting a career in Arboriculture.
Thank you for the positive feedback and calls we have received from many of you who understood the content and appreciated the help it provided.  With the release of Technical Guidance 1 – the whole industry will be much clearer on the way forward.  Please call the office should you like to discuss how our Aerial Courses are trained.**
January 2020
The HSE have recently updated their guidance for Tree Climbing, see the updated section: What can I do?
https://www.hse.gov.uk/treework/safety-topics/climbing-operations.htm
December 2019
We have created a video showing some different options that will help with the Two Rope Climbing systems that are now a requirement for all Aerial Climbing City & Guilds NPTC Assessments. This was effective December 2019. As the industry adjusts and gets use to using two rope anchor points, there's bound to be more kit available, for more efficient but SAFE climbing. All Kingswood aerial climbing courses are trained using two rope systems. For more information about courses please see our course page:
https://www.kingswoodtraining.com/book-courses/
Kingswood Training is a Lantra Training provider offering City & Guilds NPTC Assessments.  We will be complying with both Lantra and City & Guilds and will be incorporating the updates into our training and assessments as soon as they are available.
Please see link below to the Arb Association recent update on Two Rope Working.  
https://www.trees.org.uk/News-Blog/Latest-News/Two-rope-working-%E2%80%93-an-update
Arb Association Article………..
Author:  Simon Richmond, AA

  27/11/2019
Last Updated:  28/11/2019
Simon Richmond, Senior Technical Officer
Following the announcement in the Autumn issue of the ARB Magazine (issue 186, page 7) that the HSE is now requiring full compliance with the Work at Height Regulations in relation to tree climbing operations, there has been much discussion and debate.
The relevant section of the Regulations is Schedule 5, which addresses requirements for personal fall protection systems. See www.legislation.gov.uk/uksi/2005/735/schedule/5. The HSE has observed that some aspects of these requirements have been largely ignored by many climbing arborists, and that current training and assessment standards do not adequately address these issues.
The HSE has provided details of reported fall from height accidents for a one-year period, which can be viewed on the AA's website: www.trees.org.uk/2ropes-incidents. The background to this wider issue can be viewed here: www.trees.org.uk/2ropes.
The Association has been in discussion with many other organisations, businesses and individuals over the past few months to ensure that, as a sector, we are taking a proportionate and practical position in response to this development in HSE policy.
One of the most urgent concerns of many people is that HSE is reminding us that as these Regulations are current (and have been in force since 2005), all operators should be compliant immediately. While the HSE does not intend to focus particularly on our industry in terms of its inspectors' activity, it has stated that in any investigation following an incident involving tree climbing, it would expect employers and the self-employed to be compliant with the Regulations.
This creates a period of insecurity for our sector, as we do not yet have detailed industry guidance in place to help practitioners accurately interpret the requirements in order to be compliant and to make informed practical decisions in planning and carrying out their daily work.
Working with our colleagues and other stakeholders we have developed a timetable for introducing the required guidance.
Implementing changes to tree climbing guidance: use of two climbing lines
| ‌ | Objective | Completed by |
| --- | --- | --- |
| 1 | Devise and agree basic, principal guidelines for climbing using two lines – to be disseminated to training instructors and the wider industry. | November 2019 |
| 2 | Revise and update the Industry Code of Practice for Arboriculture – Tree Work at Height (ICoP) – Principal guidelines for the 'Responsible person' and 'Competent person'. | January 2020 |
| 3 | Revise existing draft of the forthcoming AA Technical Guide: Tree Climbing and Aerial Rescue (TG1) – Including detailed, practical guidance on the implementation of the use of two lines. | March 2020 |
| 4 | Integration of TG1 guidance into national training content. | Spring 2020 |
| 5 | Integration of TG1 guidance into national assessment standards. | Spring 2020 |
The work on revision of the ICoP is progressing well and the HSE has agreed that the following hierarchical approach should form the basis of planning tree climbing work at height: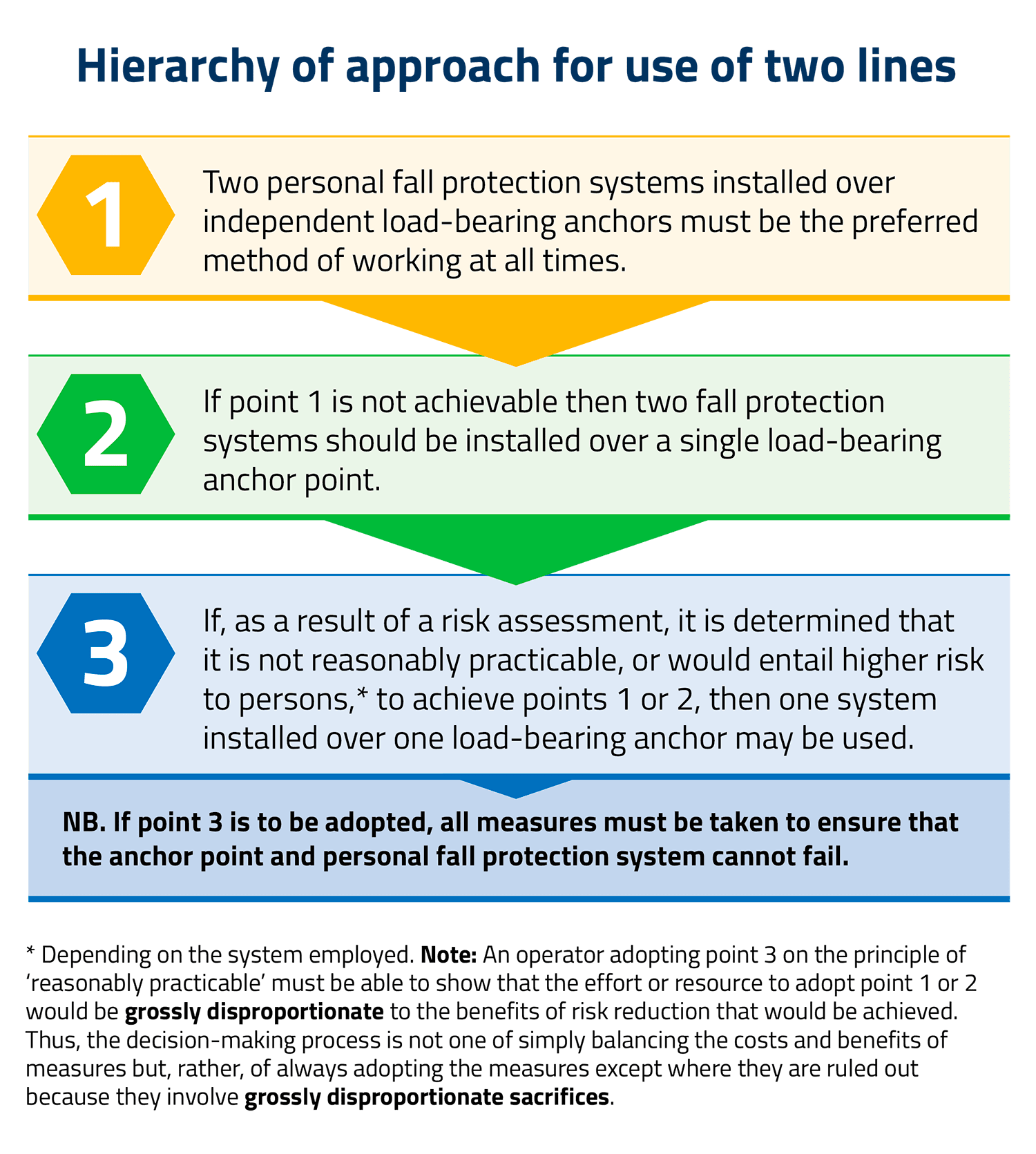 These principles will apply to all tree climbing operations and offer a planned approach, subject to any detailed decision making if points 1 or 2 are not possible. It is anticipated that situations where the use of a single fall protection system is compliant will be rare and of short duration. At this stage the emphasis is on all fall protection systems, regardless of whether they incorporate doubled/moving rope technique (MRT) or stationary rope technique (SRT) or a combination of the two.
Basic practical guidance
At a recent meeting of Lantra Awards Aerial Tree Work Verifiers, a basic set of practical guidance was agreed which has been disseminated to registered instructors to provide initial direction for training that is being delivered currently. There will be further workshop sessions for instructors, but it is recognised that until the full and comprehensive guidance is published in the forthcoming AA Technical Guide, there remains a gap in detailed provision.
Access
1. Rope Advance System
Have 3 viable systems prior to leaving the ground (2 climbing lines, 1 lanyard). Install systems 1 & 2 (2 climbing lines) from ground. Test each system. Ascend to first anchor.
Maintain 2 climbing systems at all times
Repeat to final anchor point.
2. Throw Line
Install 2 separate climbing systems and if possible do so on independent anchors. Test systems independently. Ascend.
Working in the tree
Select 2 separate load-bearing anchors where possible and install 2 separate climbing systems. Test systems independently.
Work using 2 independent climbing systems.
Descent
Both primary and secondary working systems should be long enough to descend to the ground.
Rescue
A single line system may be acceptable in a rescue situation.
Frequently asked questions
We have been fielding queries on this topic for a few weeks now and will keep this list and the Two-Rope Help and Advice web page updated to provide answers – here are some examples of the most common questions:
FAQs

1.

Q: What happens in aerial rescue situations when 2-rope makes rescue more difficult?

A:

 It is acceptable to perform aerial rescue from one personal fall protection system.

2.

Q: Will there be a list of scenarios where 2 rope exemptions could apply? E.g. if you are able to rule it out categorically in risk assessment

A:

 It is unlikely industry guidance will be able to provide specific scenarios, due to the variation of canopy structures within which arborists work. Guidance will be written to inform operators as to the factors they must consider prior to single line working.

3.

Q: I think HSE's interpretation of the law is wrong. Why can't we lobby them to change the law?

A:

 As part of the process of working with the HSE over the last six months, the AA have continually questioned their (HSE) interpretation and will continue to do so where relevant.

4.

Q: To what extent will contractors be held accountable in the period until training and full detailed guidance has been made available?

A:

 HSE have stated that the Regulations apply now, and therefore employers and the self-employed should be complying with them.

5.

Q: What face-to-face training and other resources will be available?

A:

 Resources are to include:

Revised Industry Code of Practice (ICoP: Tree Work at Height);

Technical Guide 1: Tree climbing and aerial rescue;

Lantra Awards have adjusted their tree climbing training, which also includes their refresher provision;

The AA intend to run update/information seminars or workshops in Spring 2020.

6.

Q: Will a draft of the updated guidance be made available to have a look at prior to it being finalised?

A:

 Yes, an industry consultation on the Technical Guide will be held once the draft is ready.

7.

Q: Is the Arb Association going to support contractors / advise industry that work will take longer on 2 ropes and costs will be higher and there will be additional training costs to get everyone up to date?

A:

 It is acknowledged that this change may mean that work takes longer and this in turn may result in higher costs for compliant contractors. The AA will support the industry in promoting the higher professionalism that this brings.

8.

Q: Will reasons for briefly not using 2 rope system be required to be written on risk assessment or will verbal risk assess be ok?

A:

 In accordance with current legislation, where the employer employs five or more employees, the significant findings of the risk assessment must be recorded. It would therefore be anticipated that common factor or generic risk assessment may identify the circumstances when a single personal fall protection may be used.

9.

Q: Why is the Arb Association implementing this?

A:

 This change in practical guidance and support from the Arb Association has come as a direct result the HSE's insistence that the industry has not been fully compliant with the Work at Height (WaH) Regulations to date.

10.

Q: Why, if we have always used a 1 rope system, is this now not considered safe?

A:

 The view of the HSE is that, given the number of falls from height in our sector (of climbing arborists), our current guidance and the standards we have been working to can be improved.

The HSE have also stated the use of a single personal fall protection system as the norm during tree climbing operations does not meet the requirements of the WaH Regulations.

11.

Q: Will both ends of the same rope suffice or does it need to be 2 separate ropes?

A:

 This point does require further discussion with the HSE to determine the standard they would expect to see and whether such systems would be practical to adopt.

It is likely that under certain circumstances the use of the same rope to create two separate load bearing anchor points will be acceptable.

12.

Q: I do not feel this is a safer system so can I always risk assess to not use it?

A:

 When using a work positioning system (moving rope techniques) and it is not reasonably practicable to include a backup as part of your system then a single system may be used.

When using a rope access system (stationary rope systems) and the use of a second line would entail higher risk then a single system may be used.

13.

Q: Will both ropes have to reach the ground?

A:

 New technical guide has been drafted stating that at least one of the systems in use by the operator must be capable of providing an uninterrupted descent to the ground (i.e. without the need for a change of anchor) from any point within the canopy in the event of a self-rescue being required.

During descent under normal climbing conditions, the climber will need to ensure that they remain connected to two systems for the duration of their descent.

14.

Q: When will there be set definitions, that won't change, of such things as stationary rope work positioning, moving rope work positioning etc?

A:

 These definitions will be developed as part of the revision of the ICoP and the new Technical Guide.

15.

Q: In a self-rescue situation can one rope be disconnected to allow one handed descent?

A:

 It is acceptable to resort to a single personal fall protection system in an aerial rescue.

16.

Q: As a contractor when should we be putting this new system in place?

A:

 The principle of using two separate load bearing anchor points should be in place immediately.