Kingswood Training UK's No.1 Tree Surgery Training School!
Kingswood Trees small beginnings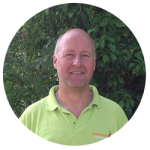 Richard Olley started his Tree Surgery business in June 1987 – 4 months before the famous hurricane that uprooted several million trees in the South East. He built the business up, gradually taking on more staff, and building a sound reputation with a wide range of domestic, commercial and Local Authority clients.
Enter Kingswood Training
After 15 years he decided to become an instructor, so he handed the day to day running of the business over to his manager, Chris Mepham and applied to join the Lantra Instructor Training Scheme. He passed all his exams and assessments at the first attempt, and qualified to teach the full range of arboricultural skills from ground based chainsaw right through to dismantling, and including woodchippers, stumpgrinders, polesaws, hedgecutters, brushcutters and Mewps. Two years later he also became an NPTC Assessor, and is qualified to assess all the skill areas that he teaches.
The Kingswood training business boomed, and in 2006 Kingswood Training proudly opened their purpose-built, state of the art training centre complete with workshops, stores and accommodation for running residential courses. Kingswood Training now employ several other freelance Lantra Instructors to cope with the demand for their highly successful courses.
Kingswood Credentials
Kingswood Training are market leaders with Kingswood Credentials recognised by Lantra, NPTC (National Proficiency Test Council) and CTP (the Career Transition Partnership).
All of our tree surgery instructors are Lantra and NPTC qualified in addition to the many years of industry experience in the subject areas they teach.
We believe the quality of our training is reflected in our results; we have an exceptionally high pass rate of NPTC City and Guilds Tree Surgery and Climbing courses – 95% of our last 500 candidates passed their NPTC assessments at the first attempt.