Combined 5-day Chainsaw & Felling course – CS30/31 140518
14 May 2018 – 18 May 2018
This popular training course runs the candidate through all of the relevant theoretical and practical aspects that are required to pass NPTC Units CS30 and CS31 and allows successful candidates to fell trees commercially up to 380mm diameter. The first day is workshop-based, covering legislation, risk assessments, basic chainsaw maintenance, chain ID, sharpening and organising site safety.
To book one of our courses we require a completed booking form, and a deposit to secure the place.  The balance of the course is due 1 week prior to the course start date.  Please complete the online enquiry form below to start this process or call the office for further information.
Course Title: Combined 5-day Chainsaw & Felling course – CS30/31 140518
Start Date: 14 May 2018
End Date: 18 May 2018
Location: Kingswood Training Centre
Places: 4
Places Remaining:
Optional Assessment Fee: £230.00
Assessment Date: 19 May 2018
Course Price inc. VAT: £745.00
Course Total Price inc. VAT: £975.00

Tags: CS30-31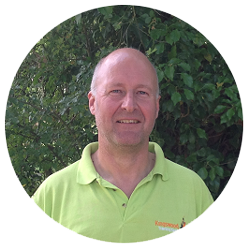 Richard Olley
Director and Instructor I started my tree surgery business in June 1987 – four months before the famous hurricane that uprooted several million trees in the South East. I built the business up, gradually taking on more staff, and building a sound reputation with a wide range of domestic, commercial and Local Authority clients. After 15 years I decided to become an instructor, so I handed the day to day running of the business over to my manager, Chris Mepham, and applied to join the Lantra Instructor Training Scheme. I passed all my exams and assessments at the first attempt and qualified to teach the full range of arboricultural skills, from ground based chainsaw right through to dismantling, including woodchippers, stumpgrinders, polesaws, hedgecutters, brushcutters and MEWPs. Two years later I also became an NPTC Assessor and am qualified to assess all the skill areas that I teach.